How to Fix a Dent or Scratch in a Car

Whether you need to learn how to fix a small dent in a car or how to fix scratches on a car, Bob Ross Buick GMC in Centerville is here to help. Of course, we'd be happy to bring your car back to its high-gloss beauty at our auto repair and body shop – but we also have plenty of service tips and tricks that you can use for a terrific DIY job! Let's go into the basics of diagnosis and repair.
How to Fix Scratches on Car
You can do your best to prevent scratches, but between highway drives through Kettering and grocery trips through Springboro, these eyesores are inevitable. Scratches vary in severity. The most common type is the clear coat scratch, which doesn't extend to the colored paint layer. And luckily, clear coat scratches are easy to repair:
Clean the area with soapy water and a clean towel to remove any dirt or debris that can scratch the surface even more.
Tape off the scratch so you know exactly where it is during the repair process.
Sand the scratch with 3000 to 5000-grade grit, using the rougher sandpaper for more deep abrasions. Wet the sandpaper and work against the grain of the scratch.
Continue until the mark disappears and finish with 5000 grit to blend the area into the paint.
Buff with a microfiber cloth to polish and add a touch of wax to protect your finish.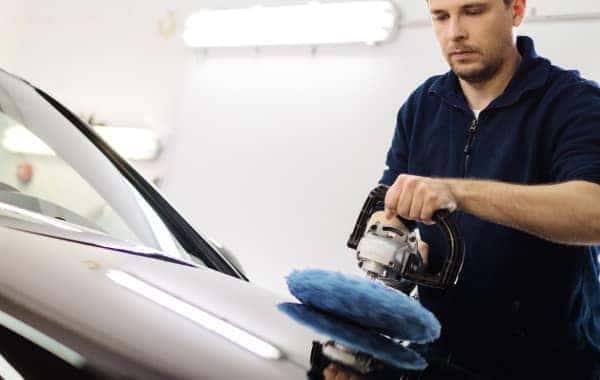 Fix Dent in Car by Yourself
You've learned how to fix scratches on a car, but what about dents? Learning how to fix a dent in a car is just as easy, but you'll need to gather a few tools before you can get started. What do you have on hand in Bellbrook?
Dent Puller: A suction cup dent puller creates a vacuum that pulls out a dent with just a little elbow grease. Pick one up at our body repair shop!
Hair Dryer: Got a hairdryer and a mallet? Use the dryer to heat the surface of the dent for several minutes. Then use the mallet to gently tap the metal back into place.
Get Quality Service at Our Centerville Auto Repair Shop
Bob Ross Buick GMC's Centerville auto repair service center offers everything from dent pullers to GMC accessories, so stop by for all of your DIY auto needs! What if your car needs extra TLC? Visit our service department for expert care from our certified technicians, and check out our current service specials to save extra cash! Whether you need dent repairs or a new battery, we're here to help.