How to Trade-In a Car

Looking to learn how to trade in your car? We at Bob Ross Buick GMC are happy to help. If you're ready to buy a new or used vehicle, you may be wondering, "How can I get the best offer on my trade-in car?" Follow our trade-in tips and you can improve your chances of getting the best possible trade-in offers near Kettering. Trust our Finance Department to help!
Get Your Trade-In Car's Value

The first step is researching what your vehicle is worth before you can select an offer. This makes it easier to know if you're getting a fair deal. Simply submit your car's year, make, and model, along with your name, email, and phone number. You'll receive a report that details the local market supply, popularity, and estimated value of your car. If you want to do more research, there are other tools available like Kelley Blue Book® Value and Edmunds True Market Value®.
Get an Appraisal
The next step is getting your vehicle appraised. You can do this by making an appointment at CarMax or with us at Bob Ross Buick GMC. There are many CarMax locations throughout Ohio to choose from. No matter which city you're from, you're bound to find a CarMax near you. CarMax will complete a detailed car inspection that's valid for a week.
If you choose to have your vehicle appraised with us, we will examine the vehicle's condition as well as take into consideration our used inventory and whether we can sell the car. If you visit CarMax but would like to get our opinion, schedule a follow-up appointment with us and be sure to bring your CarMax appraisal, as well as other trade-in offers, for our reference.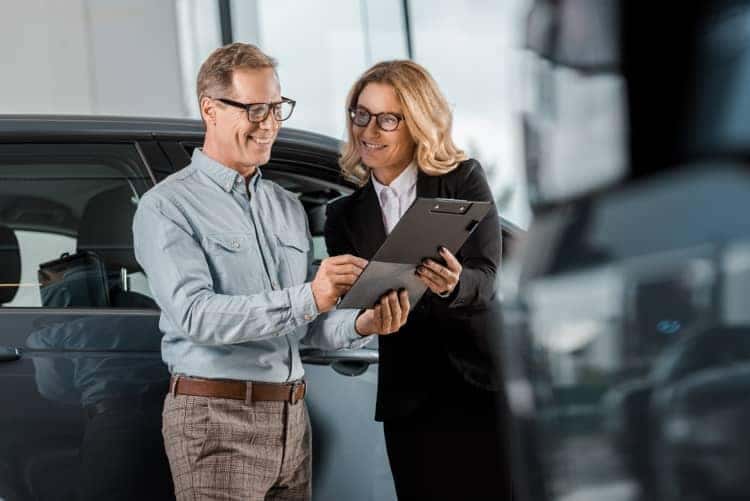 Negotiate or Accept a Trade-In Offer
Once the appraisals are complete, you can either negotiate or accept the terms and close the deal. While choosing the highest offer may seem obvious, there are a few trade-in tips and tricks to keep in mind. These include:
You can't negotiate with CarMax. Once they give you a trade-in amount, it can't be increased. There's usually some room to negotiate at a dealership.
If you're upside down on your auto loans and wish to consolidate what you owe with the price of your new car, you'll have better luck at a dealership. CarMax will expect the difference between what's owed on your car loan and the car's worth.
Once you make your decision, you can finalize the trade-in offer for cash or put the car's value towards purchasing a new vehicle from Bob Ross Buick GMC.
Learn More About Car Trade-Ins at Bob Ross Buick GMC!
Whether you have more questions about trade-in cars or you want to schedule an appraisal, Bob Ross Buick GMC is here to help. Visit our finance team to learn more car buying tips and tricks today! While you're here, ask about our certified pre-owned inventory and used car deals. Don't hesitate to contact us!